Yes or No Wheel ✔️❌
Yes or No Wheel Online tool can make your decision stronger than ever with fun. Spin the wheel and get random yes or no answer.
If you are a person who often gets confused while making important decisions, then you should use Yes Or No Wheel. It can help you to make some important decisions. This tool is also known as a Yes Or No Spinner that gives you a random answer Yes Or No with fun.
According to my experience Yes or no wheel is a more comfortable and playable tool than a yes or no button for making a decision.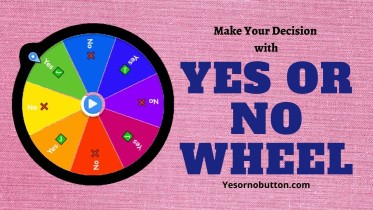 Why do you need to use a Yes or No Wheel?
Let me tell you why you need to use the Yes or No Wheel; if you are a person who is okay with both decisions and yet you are confused to choose any one option, then you should use this tool. This tool will generate the result of Yes or No with fun, and since you have no problem with any decision, you will be happy with the answer.
How Do Yes Or No Wheel work?
If you are thinking about the Yes Or No Wheel for fun, let me tell you that the button will give you random results. Each option can be seen three times in the spinning wheel.
How to use it?
To use this tool, you have to click on the option of 'Spin the Wheel Button' or click on 'Wheel', and as you click on it, spinning will start. You will get the result of either Yes or No as the wheel stops and get your result.
Yes no wheel is working on all types of devices and it's a 100% mobile friendly site.
FAQ
Yes No Wheel or Yes No Spinner Frequently Ask Questions at below:
Is it Yes or No Wheel Tool free?
Answer: Yes. It's 100% Free.
Do you have any mobile app for Yes no Wheel or Yes No Spinner?
Answer: Not Yet. But in the future we will definitely launch.
How random is a Yes or No decision maker?
Answer: Yes/No Wheel is 100% random.