Yes or No Button ✔️❌
Yes or no button online decision make tool that make your decision stronger than ever. This is the best yes no oracle tool that gives you 100% random results.
Do you know? Many people are also known as a yes no decision maker and yes no generator. But here we introduce this tool with a new and simple name that is Yes or No button.
I hope this tool will help you in a daily life. When ever you play game or any fun activities, use this tool. If you want to use this tool in a future, Bookmark it will saved in your browser.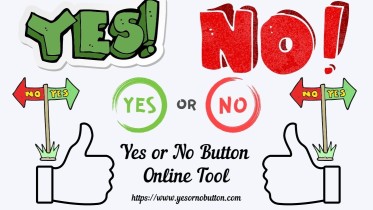 How to use yes no button tool?
Yes no Button is an easy to use online tool. It is a one click tool. You just need to click on the Get An Answer button, and it will gives you the answer. It's just like a flip the coin. This tool gives you random yes no answer, it's not depend on opinion or votes pf anyone, Which makes it truly random yes/no oracle..
Features
100% Mobile Friendly Website
Truly Random Answer
User Friendly Interface
Easy to use
Simple Design
FAQ
Yes No Button Frequently Ask Questions at below:
1. Is It Free tool?
Answer: Yes, It is 100% Free tool. You should use feel free to use it.
2. Is it working on Mobile?
Answer: Yes It is a 100% responsive website, It is working on all type of devices, Like. Mobile, Tablet or PC.
3. What is the possibility on Yes and No Answer?
Answer: According to our developer 50% of the changes of yes or no results. That's makes it Yes No Generator.
4. Do you have any mobile app?
Answer:No, Because it is a 100% mobile-friendly website, it makes no sense to create a mobile app.
5. Is there any alternative tool?
Answer: Yes, We have Yes No Wheel online tool. It is also the same with fun. You must check it.